LOMAX® Folding Hard Cover
FOR A LIMITED TIME, GET 15% OFF + FREE SHIPPING ON ORDERS OVER $100!
LOMAX® Folding Hard Cover
LOMAX® Folding Hard Covers increase the versatility and style of your pickup. This hard truck box cover is light enough for one person to install, operate and remove. Reinforced waterproof hinges and durable carbon fiber or aluminum panels combined with an ultra low profile design deliver security, strength and style. LOMAX® Folding Hard Cover is available in a variety of finishes to complement your truck and individual taste. Providing extra support, extruded aluminum channels keep the hard tri-fold tonneau cover rigid and strong enough to hold 400 lbs. Keep your truck box secure and cargo out of sight with the automatic locking system or open the folding tonneau cover to haul big, bulky items. Dare to go this low with LOMAX® Folding Hard Truck Box Covers.

California Residents: Prop 65 Warning
Average Customer Rating:
(9 reviews)
Review by: Bill C.
Unbelievable how well it fits. The look is amazing. I have only had it on the truck 2 weeks but I believe it will withstand time.
Review by: Chris R.
Easy to install. Fits perfect and looks great on my 2018 Ford F150.
Review by: Matt J. - NY
This is a good tonneau cover and it delivers in its low profile design. Came faster than expected and I was able to install it by myself in about 30 minutes.
Review by: Tom P. - FL
This is the cleanest and sleekest hard tri-fold cover on the market today. Its construction makes it less susceptible to damage caused by the sun. That's important to Florida drivers with no access to a garage or cover. The ability to quickly remove it when large loads need to be moved is also a great feature. It's main surface is aluminum meaning little to no maintenance is required and it can support up to 400lbs of distributed weight. Finally the cost is within reason for a tonneau cover of this type.
Review by: Don C. - NJ
Love it!! Easy to install and light. Looks great
Review by: Raymond S. - OK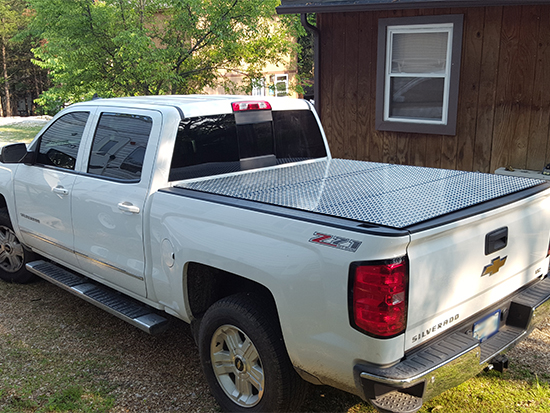 Package arrived quickly and in great shape. The parts were packaged well, so that all the parts were in perfect condition. Installation was relatively easy, although the clamps were a bit fiddly. Having a helper would have made the installation easier, but it wasn't too bad to do it by myself. The cover looks great and fits on my Chev. Silverado CC SB Z71 perfectly. It isn't perfectly water-tight against rain, but very close! I like being able to open close the tailgate without worrying about the position of the rear of the cover. I also like the ability to remove the cover completely with minimal effort.
Review by: Dennis H. - AR
Easy to install, Looks Great, Works very Well, Waterproof so far, I used the Tailgate seal, Well pleased with the low profile look. I also purchased the cargo handle, very useful. I recommend this hard tri-fold cover, very satisfied.
Review by: Carl M. - IL
The LOMAX hard tri-fold cover I bought was delivered on time. Well packaged with no damage. Took about an hour to get it on. Went on a golf trip that weekend and it kept the box dry in heavy rain. The tonneau cover sits very flush which I like and get 4 golf bags and carts in without any issues. The LOMAX cover comes off super easy too with one person. I have had no problems or complaints with it.
Review by: Mike P. - CA
Your folding tonneau cover arrived on time and was very easy to install. I'm very happy with it and it eases security concerns. The LOMAX tonneau cover is very well made and I will happily recommend it.