ROCKSTAR™ Splash Guard Mud Flaps
ROCKSTAR™ Splash Guard Mud Flaps
Sold in set of two. Coverage: Front or rear.
Get protection you can count on, ROCKSTAR™ Splash Guard Mud Flaps are designed for precise fit to easily and quickly install in minutes. Constructed of durable composite rubber for extra strength and to prevent build-up of mud and snow. Available in full size 23 and 20 in. or midsize 18 in. lengths for the best mixture of fit and function. The model specific and universal ROCKSTAR™ Splash Guard Mud Flaps are furnished with polished stainless steel trim plates or without for a subtle black appearance. Make our versatile ROCKSTAR™ Splash Guard Mud Flaps part of your travel plans.
Recommended splash guard ground clearance is 5 to 7 in., suggested clearance with a load is 3 in. minimum to prevent dragging. Aftermarket products and changes to OEM specifications may cause improper fit to model specific behind the wheel mud flaps. Solid mounting surface required for install.

California Residents: Prop 65 Warning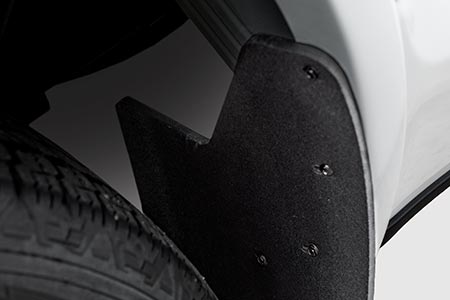 Installs in Minutes
MODEL SPECIFIC: Constructed for the ideal fit with model specific, factory cut mounting hole locations. Available in 23, 20 and 18 inch lengths.
UNIVERSAL: Use the included cardboard guide to help with a level install and attain recommended ground clearance.. Available in 23" or 20" lengths.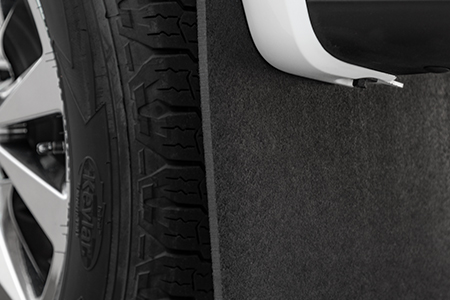 5/16 in. Composite Rubber
Extruded for additional strength and pliable to -40° F. The flat exterior prevents mud and snow build-up. Our rubber won't distort the color of your truck.
Average Customer Rating:
(5 reviews)
Review by: Cary K. - VA
Great product. Fantastic quality and what I expected. I use nothing but the best and you delivered.
Review by: Mark B. - MT
I couldn't be happier with my new mud flaps! They mounted effortlessly, fit the truck great and just plain work. After installing these, mud doesn't collect on my fenders or running boards and rock chips are no longer a problem! I will recommend these to everyone!
Review by: Donald C. - AZ
Easy install. looks great.
Review by: Dave B. - WI
This product is very high quality, I have only had it on my truck for about 4 weeks. So far so good!
Review by: Mike H. - CO
Excellent product, fits perfectly.