ROCKSTAR™ Hitch Mounted Mud Flaps
FOR A LIMITED TIME, GET 15% OFF + FREE SHIPPING ON ORDERS OVER $100!
ROCKSTAR™ Hitch Mounted Mud Flaps
The ROCKSTAR™ Hitch Mounted Mud Flaps lineup begins with the standard model. The mud flaps are positioned to cover the area directly behind the tires on a light-duty pickup and the rubber extends one inch past the frame.
The mud flaps are made to be sturdy with half-inch thick rubber. The rubber has a smooth finish to prevent mud or ice from sticking and building up. The durable rubber is built to take a beating and stiff enough to resist sailing at highway speeds.
The frame is rustproof aluminum available in smooth mill or diamond plate finishes. We laser-cut the ROCKSTAR™ Hitch Mounted Mud Flaps' frame with custom designs to fit your truck's bumper. The mounting hardware is made from stainless steel to provide extra resistance to corrosion.
These features work together to protect trailers from damage by rocks and grit being kicked up by a towing vehicle's tires. ROCKSTAR™ Hitch Mounted Mud Flaps take the abuse so your camper, boat or trailer can maintain a good finish and resale value.
Important: ROCKSTAR™ Hitch Mounted Mud Flaps are designed to fit OEM receiver hitches and bumpers and may not fit aftermarket products. See Important Specifications

California Residents: Prop 65 Warning
Average Customer Rating:
(8 reviews)
Review by: Mark D. - IA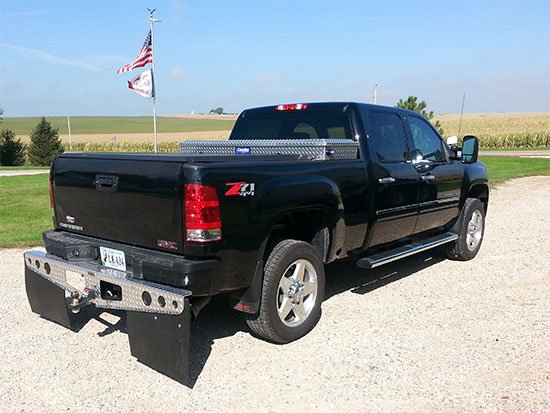 Very happy with the Rockstar Mud Flaps. Easy to install, look great, and it works with a 2 1/2 inch receiver. Thanks for a great product!
Review by: Kyle M. - SD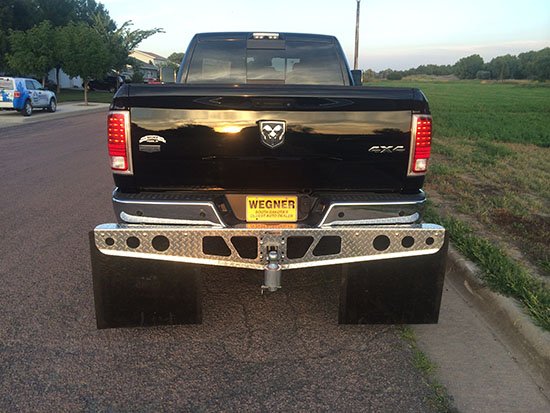 I absolutely love my ROCKSTAR hitch mounted mudflaps. They not only protect what I am pulling, they are an eye catching accessory that has gotten many nice comments. They are built to last! Nothing chincey about these at all. Well worth the $$$$$ spent! I was able to transfer from my 2013 1500 Laramie to my 2014 2500 Laramie. However I did need to order the replacement rubber flaps due to the 2500 does not have dual exhaust out the rear like the 1500 did. I called in to ask if it was possible, it was, I ordered them and all is well. Thank you for the great customer service as well.
Review by: Rob C. - IA
I tow my boat down a gravel road to get to where I need to launch. For years, I have been trying to find a solution, to keep it from being damaged, that wasnt a permanent mounted mudflap. These ROCKSTAR mud flaps appear to be the answer to my quest. Honestly, wish I had found them 15 years ago and I would have saved a lot of damage to my trailers. My initial impression upon opening the box was WOW. The quality of materials truly impressed me before I even started. Living in the Midwest rust belt, I really appreciate the use of heavy aluminum for the frame, and how many companies go to the expense of using actual stainless steel hardware anymore? The instructions are easy to read and follow and actual assembly is simple and straightforward. The actual mudflaps are thicker than the ones on my semi. Everything about these says quality. The savings in reduced damage to trailers and boats makes them worth every cent.
Review by: Gary S. - ON
Great product and installation was easy. Wish this product was available in Canada, as I could easily sell them. Already people are asking me where I had purchased the Rockstar Mud Flaps. This after only two days on my truck.
Review by: Brock M. - ND
I got these mud flaps for my 2012 Duramax. They were easy to put on and take off. Just slide them on till they stop and the pin lines up. The mud flaps look great, seem very durable and protected my boat. I didn't have to alter my exhaust system because these mud flaps have a heat shield that deflects heat from the exhaust system even when towing large loads. The diamond plate looks good on my truck.
Review by: Jeremy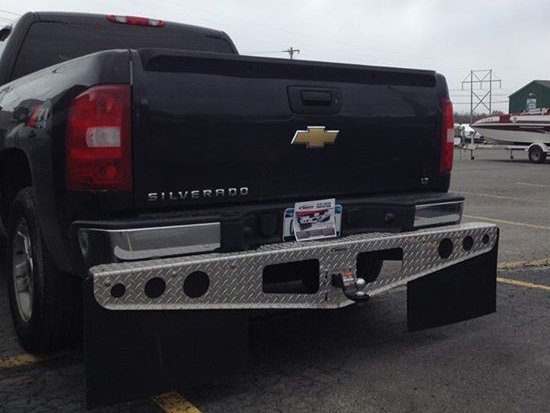 I was excited to put the Rockstar on my truck so I wouldn't have to worry about rocks damaging the boats I deliver. I had one of those broom style protectors in the past. It didn't really do anything. I still had to worry what I would find when I got out of the truck. Now I know I won't find any damage and to my surprise it only takes me a few minutes to clean the boat for delivery instead of over an hour to get the road grim off. Thanks Rockstar!
Review by: Kelly H. - TX
I bought this for my 2011 HD 2500 Chevy diesel. I got it with the heat shield. Very well built solid product. I would recommend this Mud flap system. I got it to keep rocks from damaging my fifth wheel.