ADARAC™ Aluminum Pro Series
FOR A LIMITED TIME, GET 15% OFF + FREE SHIPPING ON ORDERS OVER $100!
ADARAC™ Aluminum Pro Series
Works with LOMAX™ Hard Tri-Fold Covers, ACCESS® Roll-Up Covers and most inside the rail tonneau covers.
Elevate your everyday, the ADARAC™ Aluminum Pro Series will carry your next adventure with ease. The pickup rack is constructed with lightweight, corrosion resistant aluminum, and has the strength to carry a hefty load. Increased carrying capacity with limited framework interference, the aluminum truck box rack features fully removable and adjustable vertical uprights. Model specific ADARAC™ Aluminum Pro Rack Series has a simple, no drill install with stake pocket inserts. Truck box accessories can be easily attached to secure payload with mounting channels incorporated in the side rails and cross bars. This pro pickup rack system is engineered tougher, lasts longer and performs better.

California Residents: Prop 65 Warning
Average Customer Rating:
(5 reviews)
Review by: Jeff M. - CO
We use it to haul our two kayaks. Fits great on our 2019 Ram 1500 short bed crew cab with our existing Undercover Armor Flex folding bed cover. Assembly & installation was very easy. The only slightly complicated part was cutting out the stake pocket openings to use the rack.
Review by: Darren Y. - AB
I just got this rack for my 2014 Tundra. I have a back flip tri fold tonneau cover. This rack fits and works perfectly. The instructions were super easy. Took me a buddy less than an hour to install. (could have been quicker if it wasn't for the beer breaks). The aluminum hound hold up great in our Alberta winters. Thanks for such a well made product! Can't wait to get the canoe on it.
Review by: M G.- TN
Great rack, well made very simple install.
Review by: John B. - OH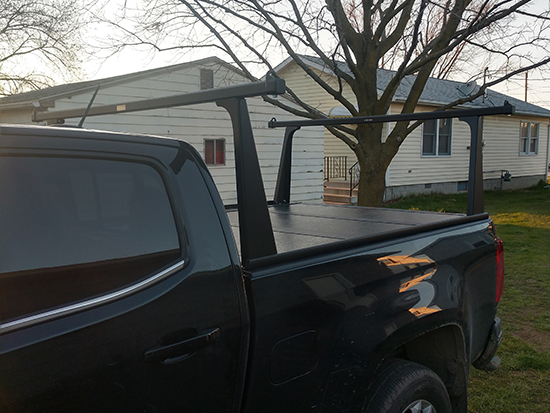 Very impressed with the quality, ease of installation and strength of rack. Use for kayaks and ladders for my work. Will definitely get for future trucks. I highly recommend this product. Extremely happy with my purchase. Looks great also.
Review by: Mark D. - NY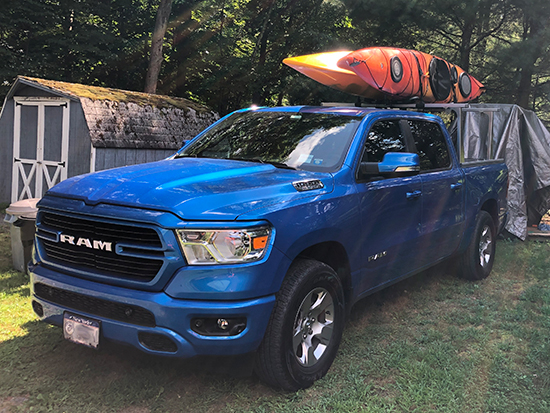 I transitioned from a Ford to a RAM and wanted to use the same rack system. I was able to purchase the proper stake-pocket mount rail system. Minor issue, anchors for the front stake pocket required a modification to fit the RAM. (I had to knock off 3/8" on one long side to each front anchor to fit properly.) Product support was caught unaware. Otherwise, It works perfectly and couldn't be happier.