ACI® AA Battery LED Light
ACI® AA Battery LED Light
The ACCESS® AA Battery LED Light is waterproof and sticks anywhere with a tough 3M adhesive. It can fit into all sorts of tight spaces, such as sheds, safes, closets and toolboxes. The 18-inch strip of 30 LEDs is a great floodlight for any space where you need more light but don't want to run wiring.
Runs on 3 AA batteries (not included)
Includes user-adjustable auto-shutoff (factory set to turn off after 3 minutes)
Put it in toolboxes, sheds, gun safes and more

California Residents: Prop 65 Warning
Completely Waterproof
The ACCESS® AA Battery LED Light is completely waterproof and has tough 3M adhesive that bonds to nearly any surface.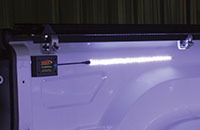 Mounting the ACCESS® AA Battery LED Light
The ACCESS® AA Battery LED Light Light strip easily mounts to surface with 3M adhesive.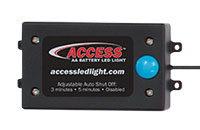 Built-in On/Off Switch
Allows for the LED light strip to be easily turned on and off.
For use on a variety of applications
Truck Beds - Sheds - ATVs - Fish Houses - Trailers
Delivery Trucks - Ag Equipment - Toolboxes - Storage Compartments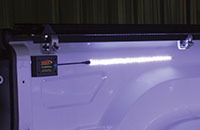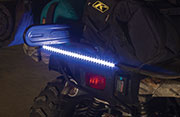 Average Customer Rating:
(10 reviews)
Review by: Craig B. - SD
A quality product well-built serves my purpose of needing a light where I can't get power.
Review by: Tim M. - TX
The battery led light works great for lighting a truck bed. Very easy to install and the double sided mounting tape is extremely strong. The batteries last a long time. Great product.
Review by: Jeff H. - MN
Nice product. Works well.
Review by: Don H. - IN
The light and battery appear to be well made, and the switch functions as advertised. However, the directions state that before mounting the ambient temperature should be 60+ degrees, and living in SE Indiana, that has not yet happened. So, while I have not yet mounted the lights, I am not expecting a problem once I do.
Review by: Tom C. - UT
This has been a great sitting to my bed. I thought it might throw a little light inside the bed but I was wrong. It lights it up so well I can even see under my truck box without any problems. Well worry the money!
Review by: Ricky W. - NC
Love the ability to put a light wherever I need it!
Review by: Evan P. - MT
Lights work great in the bed of my truck. Bright, easy to mount and easy on/off switch. Love the automatic shut off timer.
Review by: Tom C. - UT
This has been a great option to not have to write in a light. It is able to be on a timer so that you don't run the battery dead. It puts out a lot of light. It will even light up under my truck box and the light is mounted in the back of the bed.
Review by: Robert T. - NJ
Great light. Exactly as described. JUst what I needed to get some light into my pickup truck bed.
Review by: Robert G. - FL
This is a great solution for my truck because it didn't have any lights from the facory.I have a cap on mine and it lights up the whole interior. My last one lasted 3 or 4 years before something inside the circuitry gave out,the led strip was still good.I assume the Florida heat is what took it out.If you were to improve this device I would try raising the on/off switch under the rubber cover a little higher.It seems like you have to push the rubber cover way down to almost it's stretch limit before the switch activates.Other than that it's a good product for the price point.